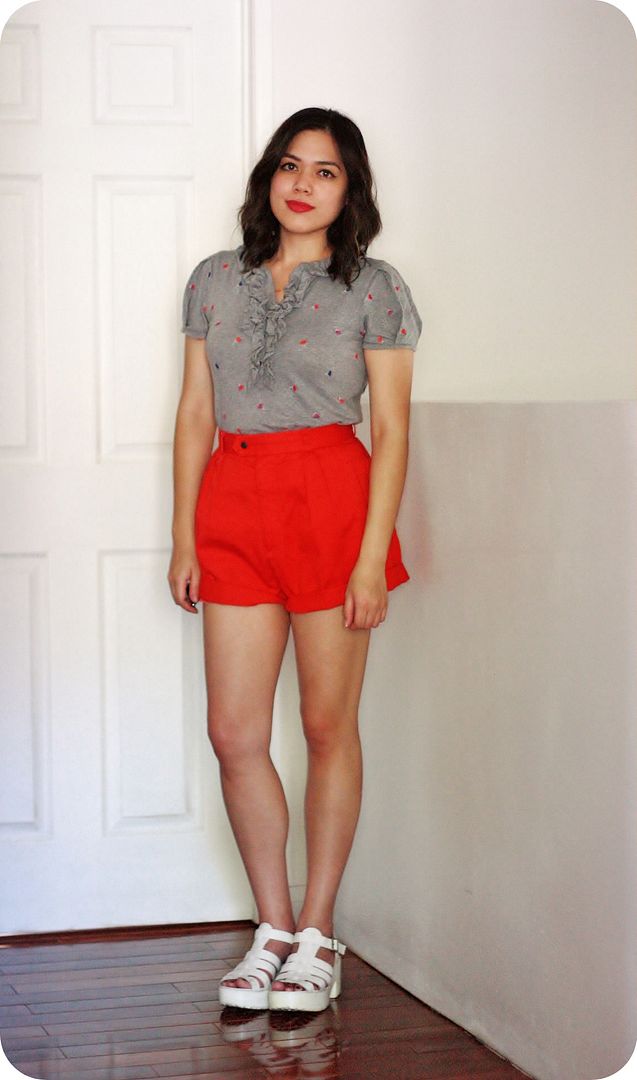 It's just about starting to feel like summer, so I'm breaking out all my tees and shorts.
A thrifted outfit for today! The heather gray top is by
Marc by Marc Jacobs
, which was an awesome find. It has tiny little embroidered flowers and a ruffle around the collar. I like its quirky, feminine take on the classic polo. The bright red high-waisted shorts are vintage (from the 80's). I cuffed them at the bottom to make them a little shorter.
Also: I tried that
Pinterest thing
where you wrap your hair around a headband for beach waves and
it totally worked
. I mean, the back of my head looks kinda weird, but the rest of it turned out pretty awesome.
Good. Because I'm crap with a curling iron and admittedly a little lazy when it comes to styling my hair. Low maintenance is always ideal.
Outfit Details:
Embroidered gray puff-sleeve tee (thrifted, Marc by Marc Jacobs)
Vintage red high-waisted shorts
White platform fisherman sandals (c/o Boohoo)
Have an amazing weekend!
bloglovin' . gfc . facebook . twitter . instagram