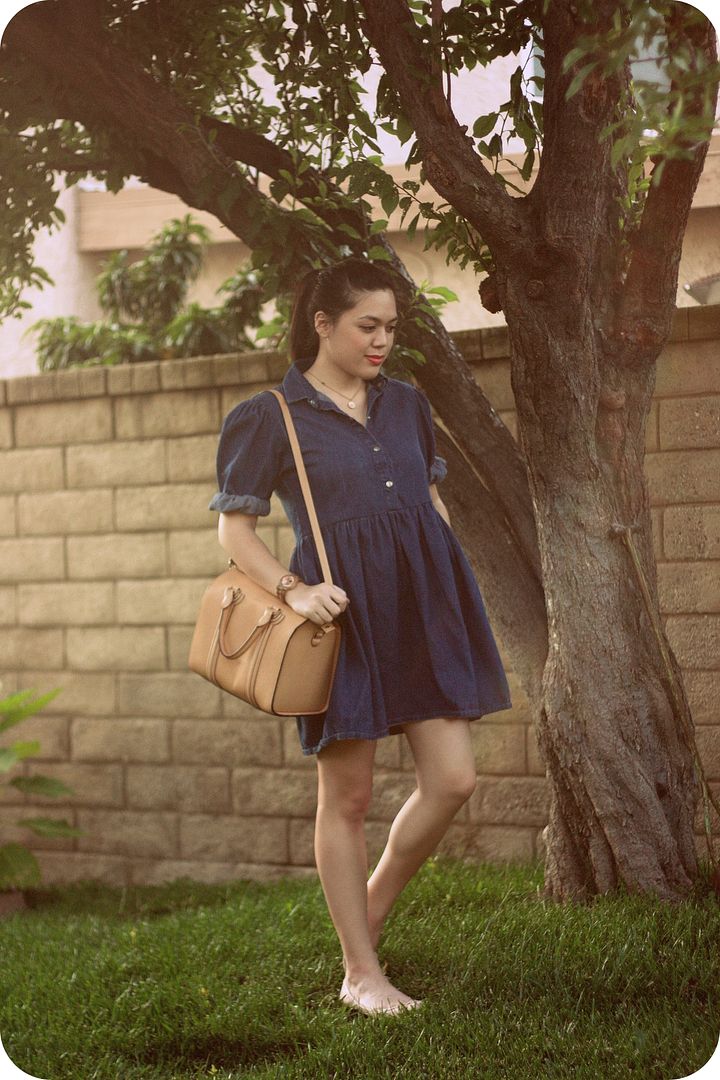 Summer is creeping in and it's beautiful outside! It's so refreshing to be able to wear my shorts and dresses out. I actually thrifted the dress I'm wearing, but it looked
very
different when I got it at the store. I wanted a cute denim dress and just knew this one had potential when I saw it. Problem was, it had huge balloon sleeves and a crazy long dropwaist that fell to my knees. I simply cut the skirt off, sewed it higher (at the natural waistline), and rolled up the sleeves. I also used the extra fabric I had hacked off to make hidden side pockets (yay!), so it was a successful dress makeover, I'd say.
Vintage denim dress DIY - Before and After
I wore it with my new rose gold
Cora
watch from
Jord Watches
. It came beautifully packaged in a wooden box. I was surprised at how lightweight it was, considering most large face watches I've worn tend to be heavy (especially the metal ones). The rose gold face and Swarovski crystals complement the natural wood grain perfectly. My favorite parts of the watch are the little window on the front and clear glass on the back, which allow you to see all the delicate innerworkings. It's easy to forget how many parts and pieces go into a seemingly simple mechanism. Overall, it's a unique and special accessory that fits in with my closet and lifestyle. Bonus: if you order a watch from them, they can custom size it for you (saves you a trip to the mall)!
Outfit Details:
Vintage denim re-worked dress (thrifted)
Light brown leather satchel (Kate Spade Saturday)
Rose gold wood "Cora" watch (c/o Jord Watch)
Pink leather ballet flats (Jessica Simpson)
Daisy charm necklace (Juicy Couture)
A huge thank you to
Jord
for the watch. Don't forget to
check them out
!
bloglovin' . gfc . facebook . twitter . instagram