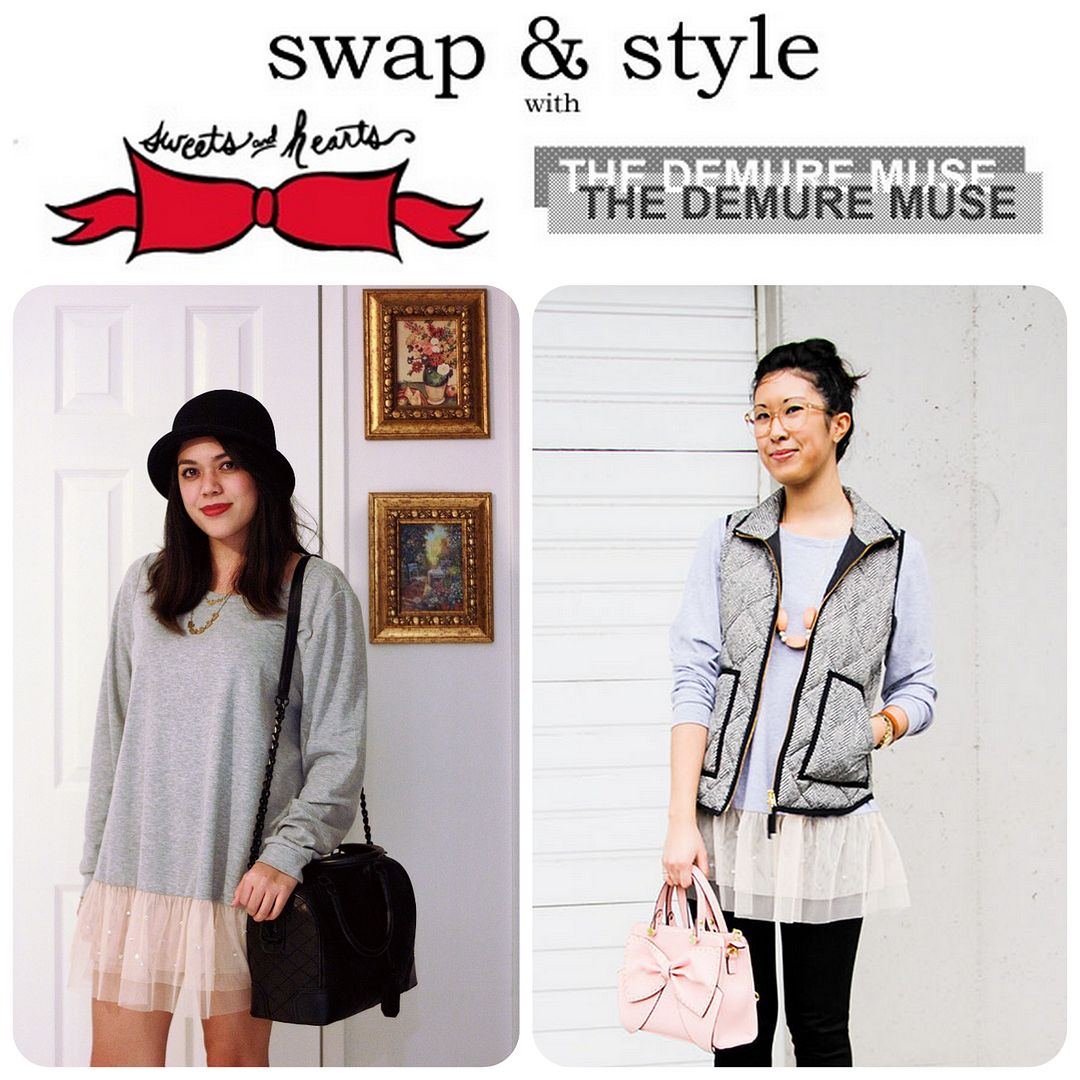 Swap & Style: Gray oversized sweater with pink tulle and rhinestones
Because our latest
Swap & Style
happened to have two pieces with a little bit of pink,
Katrina
and I just
had
to post them this month for Valentine's Day! I sent this oversized gray sweater tunic over to Katrina. The bottom is adorned with pink tulle on the bottom and tiny rhinestones. It's unabashedly girly, but it's also casual and comfy due to the slouchy fit. It's got a bit of a lounge-y ballerina thing going.
I like that we're posing almost the same.
And we even have the same color palette going on! Great minds.
I wore it to a fashion show a few months ago. It was warm outside, so I wore it as a dress--all I had to do was wear a slip underneath. I accessorized with a black cloche hat, my black leather
Alice + Olivia satchel
, and black pumps from
Seychelles
.
Outfit Details:
Gray oversized sweater with pink tulle and rhinestones (Forever 21)
Black leather quilted "Olivia" satchel (Alice + Olivia)
Black cloche hat (Zara)
Black suede "Ampersand" pumps (Seychelles)
Gold name necklace (c/o oNecklace)
Bunny necklace (made by Katrina!)
Katrina
creatively styled the sweater with layers. I love the detailing on the quilted vest and how it contrasts nicely with the sweater--I would've never thought to pair it with something like that! Her pink bow purse also brings out the pink tulle.
Part II will be coming in a couple of weeks (more pink!).
Check out our past
Swap & Style posts
in the meantime and be sure to visit
Katrina
over at
her blog
.
bloglovin' . gfc . facebook . twitter . instagram