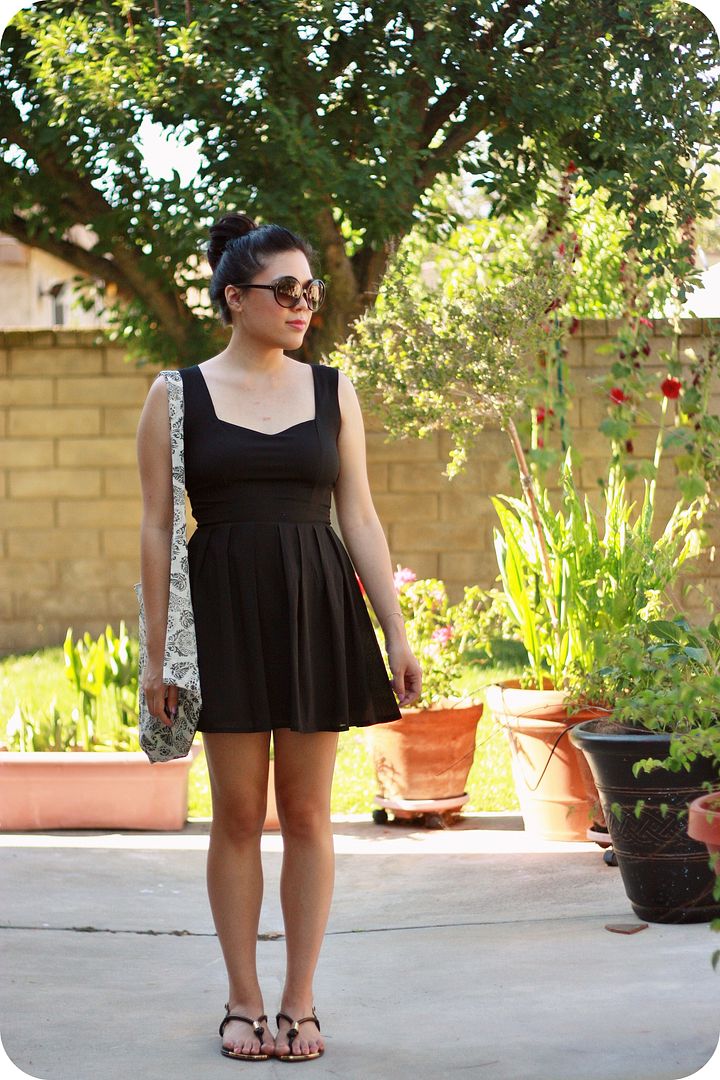 I'm enjoying the laziest of weekends (hey, it's Labor Day!) and have been watching a lot of Netflix (and
baking doughnut muffins
). In random news: you know how I
lost my wallet in Portland
? I just assumed it was lost forever, but it was turned in to the Portland police with everything in tact (even my $$) and I got it back! I mean, what are the chances? Thank you, Portlanders!
Lately, my outfits have been rather minimal because it's just been so hot outside. I still try to pick pieces with interesting details though. I got this dress last year from
Sidecca
and just found out that they came out with a romper version too (which I might just have to get). I wore it with oversized round sunglasses from
Sunglass Warehouse
, my black knotted sandals, and a tote bag that's actually just the free shopping bag they give you at Free People (it's canvas and has a really pretty paisley pattern). I used that tote bag for about a month straight because I liked it so much.
Outfit Details:
Black heart cutout back fit and flare dress (Tea & Cup via Sidecca)
Black and gold knotted sandals (DV by Dolce Vita | similar)
Black oversized round sunglasses (c/o Sunglass Warehouse)
Cream paisley canvas tote (it's the free shopping tote they give you at Free People)
Gold bow bracelet (gift from Gracie)
Hope you had a great weekend as well!
bloglovin' . gfc . facebook . twitter . instagram