I'm finally getting around to posting some snapshots from my Portland trip. My friend Liz and I were both getting a little overwhelmed at work and just itching to get away. Our friend Priscilla recently moved to Portland and we kept saying we wanted to visit, so we finally made it happen. We had so much fun (and ate
a lot
) in just a few days. I already want to go back. A few notes:
Traveling Tip #1
:
Don't lose your wallet the day you arrive
. One minute you're buying ice cream (delicious
Lavender Honey ice cream
) and the next thing you know, your wallet and the $150 in birthday cash from Grandma is gone, and your kind,
kind
friends are paying for your things and sneaking you drinks at bars for the next few days. Also, your parents will overnight your passport (need the ID to get back on the plane, you know) and for some reason there will be all kinds of delays and you won't get it until the morning before your flight leaves.
Travel tip #1.5
: Bring two forms of ID. Maybe even three. See above.
Traveling Tip #2
: Travel with
cool
best friends. Specifically, have one that's crazy good at planning (she even does it for a living!) because your itinerary will be both organized
and
filled with amazing things she knows you'll want to do/see/eat (bonus points if her dog is the cutest thing ever). Also have a friend who's really generous and doesn't blink when you sheepishly ask her to buy you three bars of 'Made in Portland' chocolate. And several days worth of meals.
Those are all the tips I have right now.
Just some advice.
And now for some pretty pictures.
After a morning hike at Multnomah Falls, we made a quick stop at the Vista House which had one of the most breathtaking views I'd ever seen, even with the rain.
You can't visit Portland and not go to Voodoo Donuts. You just can't. I tried the "Voodoo Doll" and the one covered in Oreos. Both were awesome.
One of the few shots we got of the three of us. Here we are during a mini bar crawl (if you could call it that) around McMenamins Edgefield .
Floating houses, seen during our Sunday brunch (booze!) cruise aboard the Portland Spirit along the Willamette River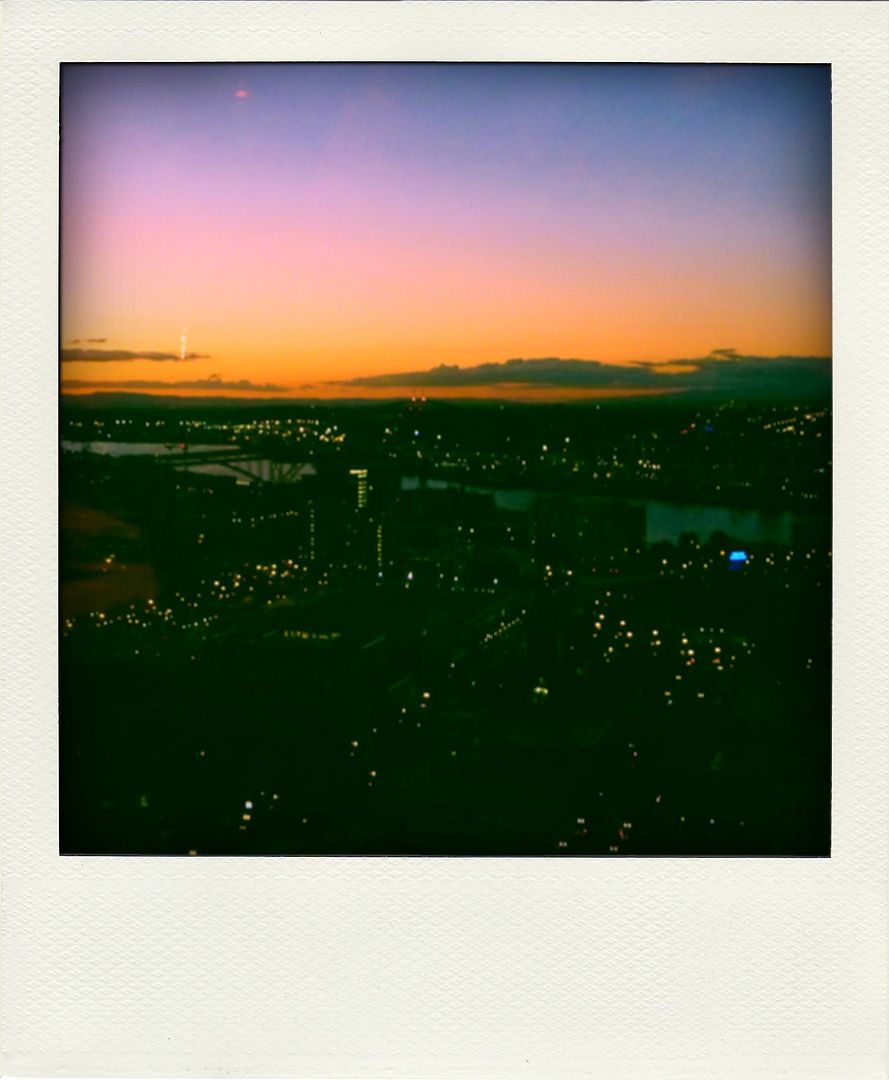 Our last night in Portland. Such a gorgeous view of the city and sunset from Portland City Grill.
These photos show just a mere fraction of what we did, but they are some of my favorites from the bunch.
I never did figure out what happened to my wallet. In the end, it didn't matter because my friends really
are
the best.
Update: I posted this a little too soon, because I heard from Portland PD the very next day and was informed that my wallet--with everything in it--was in tact and available for pick-up. My dear friend Priscilla was able to get it for me and send it back! What are the odds? Portland is filled with nice people.
And in case you're wondering,
the dream of the 90s really
is
alive in Portland.
It was everything I hoped it would be and more.
(P.S.
in case you didn't get that last bit
)
bloglovin' . gfc . facebook . twitter . instagram