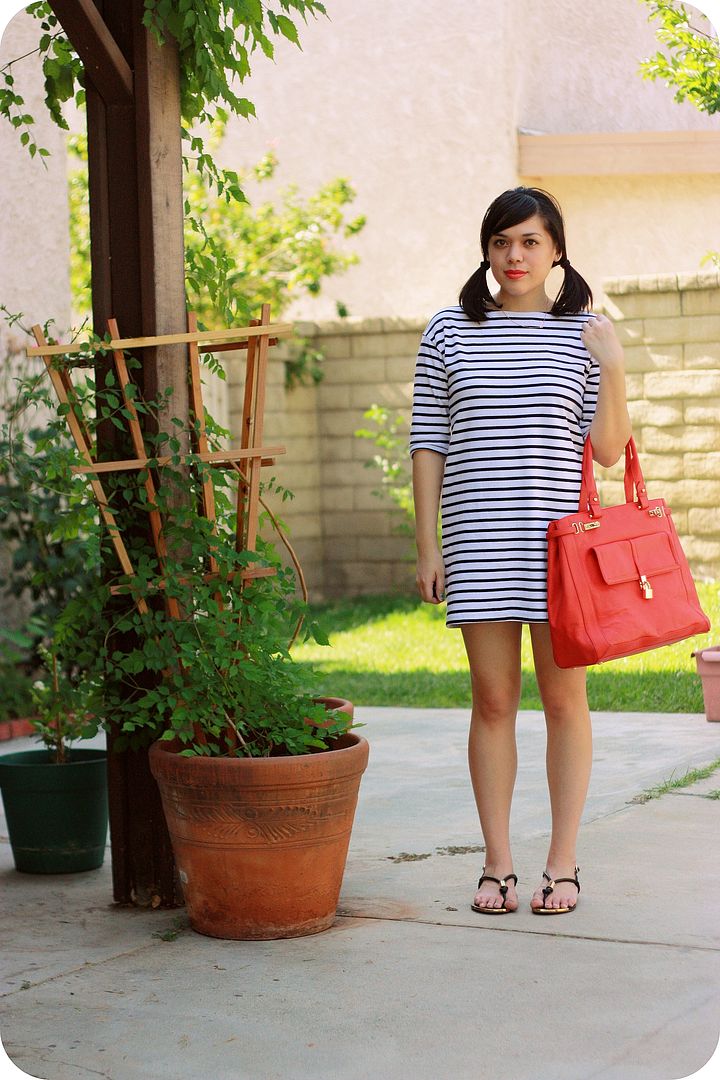 I spent the weekend house/dog-sitting for my sister and her fiance. It gave me the opportunity to wander around the town I grew up in. There's not much to do around there, but they do have a huge Forever 21 with an insanely large sale section (I got this dress!) and a great TJMaxx (ahem, found these sandals on clearance for $15).
I couldn't wait to wear my new finds and slipped them on first thing Sunday morning. The dress is easy to wear and I didn't want to over-complicate it with anything because I was heading home anyway, so I paired it with the black sandals I just got, a red leather tote, and this gorgeous
rose gold sideways initial necklace
from
Eve's Addiction
. It's understated and delicate, but also a little unconventional, which I love. The rose gold is such a pretty shade, too.
Outfit Details:
White and black striped knit shift dress (Forever 21)
Black knotted thong "Aileen" sandals with gold metal details (DV by Dolce Vita | available here)
Red leather satchel tote (c/o Sole Society)
Rose gold plated sideways initial 'E' necklace (c/o Eve's Addiction)
Check out
Eve's Addiction
's
website
for more personalized jewelry!
bloglovin' . gfc . facebook . twitter . instagram