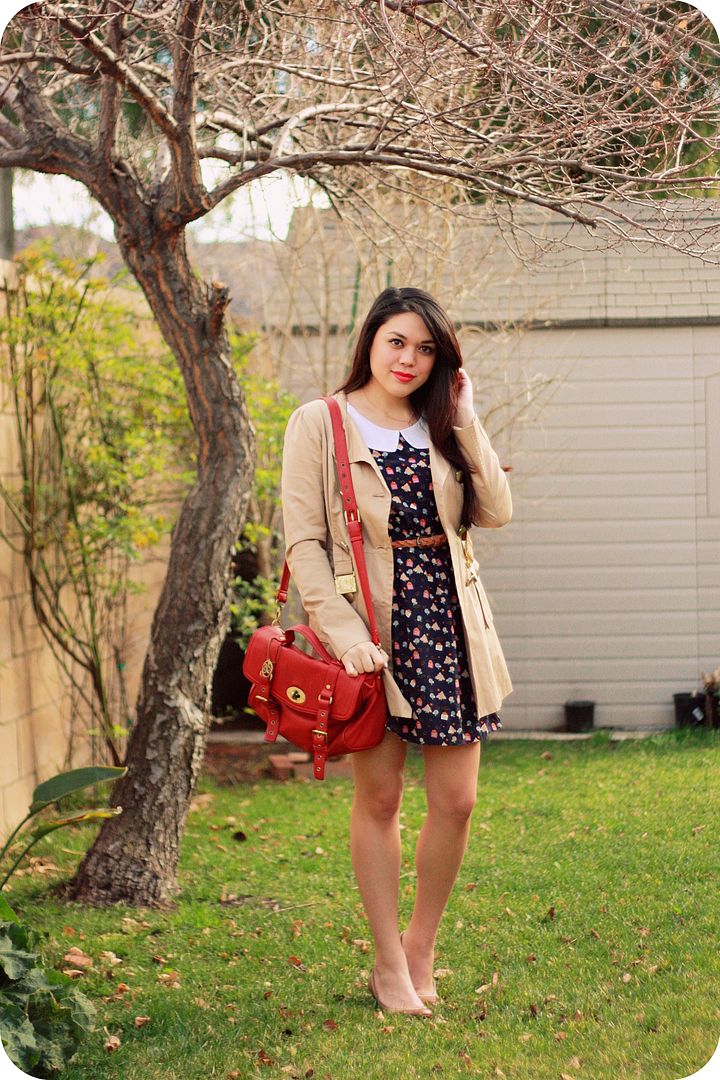 Navy dress received in a swap on Swapdom

I recently just had my first successful swap on
Swapdom
! I was gifted a really cute cutout dress last summer (below), but unfortunately it didn't fit. I wanted to find it a good home and swapping seemed like the perfect solution. I put it up on Swapdom along with some other clothing items, found a few things I liked and requested them, then crossed my fingers. An e-mail arrived soon after and I was ecstatic to see that a swap was found. Bonus: I got my first choice--the navy dress in this post. It has an adorable white Peter Pan collar, long sleeves, pockets, and the cutest novelty print featuring little houses and trees. Score!
In case you didn't see
my post
from a while back or need a quick refresher,
Swapdom
is a cleverly designed community swap site where you can list gently used/like new clothing and accessories, and exchange them for something new-to-you.
My absolute favorite thing about Swapdom is that there's such a variety of things to choose from. I like visiting the site often to see what has just been posted. Every time I check it out, I find something else I
really need in my closet
could see myself wearing and quickly open up a new swap. There's a great assortment of vintage and on-trend clothing in lots of different sizes. They even just added a section for kids' stuff and will be opening up a "home" section soon.
Here are some more outfit photos featuring the dress I got:
Outfit Details:
Navy novelty print Peter Pan collar dress (Miss Jolie via Swapdom)
Khaki trench coat (c/o 2b by Bebe | similar )
Brown woven belt (came with another dress)
Gold wishbone necklace (c/o NikNakky)
Red satchel (Vieta | similar )
Tan cone heel pumps (Payless)
Coral red lipcolor: Lip Tar in "Harlot" (Obsessive Compulsive Cosmetics)

The site is really easy to use once you get the hang of it. I've mentioned before that I used to swap on Facebook groups, and while that was fun, it wasn't the easiest or the most organized. For Swapdom, you just have to request the things you want and make offers, then wait for an e-mail when a swap is found.
There's never been a better time to get a head start on some closet purging for Spring Cleaning (or perhaps, there was a holiday gift or two you weren't completely in love with? No judgement).
Also:
Swapdom
did a little feature about this swap! Check it out on their blog
here
.
If you'd like to join too (it's free!), you can
sign up here
.
Don't forget to see what I've added to my swap page.
bloglovin' . gfc . facebook . twitter . instagram