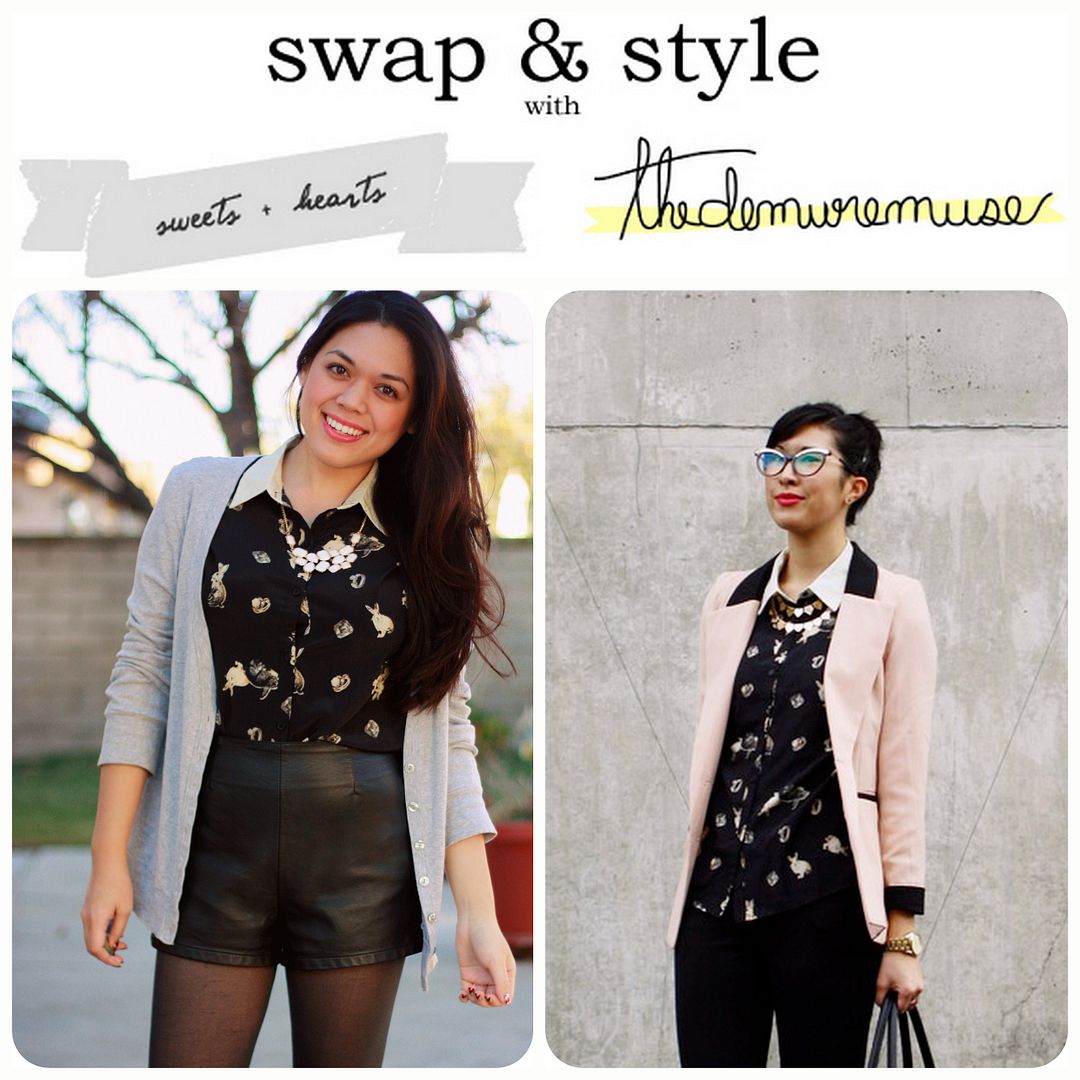 Swap & Style: Rabbit Print Blouse (Romwe)
First the
cats
...and now the bunnies.
More specifically, bunnies and diamond rings. Fancy bunnies.
This is one of the reasons why
Katrina
and I are great blog friends--we're both overly enthusiastic about collecting clothes covered in weird-cute tiny animal prints. It's a good thing we're sharing closets.
It's funny, because
she mentioned
that we both wore suspenders in the last post (her tights and my skirt), and I hadn't even noticed at first! I did see that we had a common feature this time around too: we both wore chunky statement necklaces around the collar (mine is from
NikNakky
). The more we do these surprise swaps, the more little similarities I find.
I wore Katrina's bunny & jewels blouse with a gray boyfriend cardigan, faux leather shorts, black tights, and patent ballet flats.
White and gold bib necklace (c/o NikNakky)
Outfit Details:
Black sleeveless rabbit blouse (Romwe; Katrina's)
Black faux leather high-waisted shorts (Forever 21)
Heather gray boyfriend cardigan (Love Rocks)
Black tights
Black patent ballet flats (Coach)
White bib necklace (c/o NikNakky)
Here's how
Katrina
styled the blouse. I absolutely
love
how sleek and sophisticated she looks here! I think it's awesome how she made the bunnies look so sharp with the tailored blazer and gold watch. It makes me wish I could wear business-y attire in my everyday life. Bunnies and blazers are a good mix.
Be sure to visit
her blog
for her full post!
Check out our other
Swap & Style
posts
here
.
bloglovin' . gfc . facebook . twitter . instagram