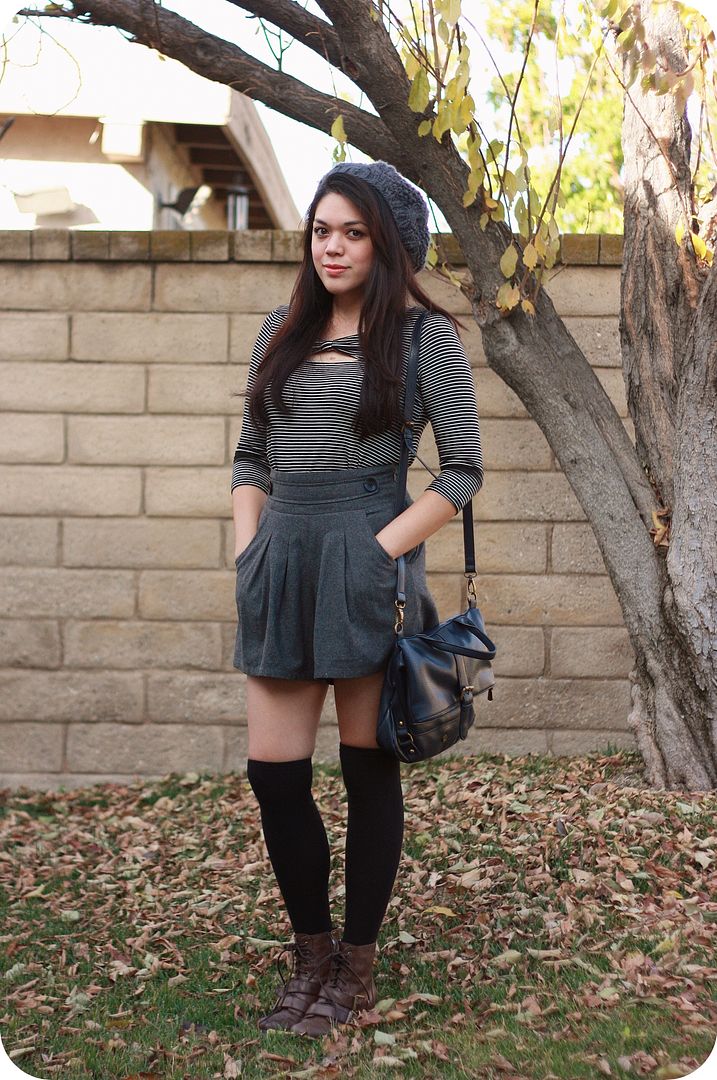 "Near and Noir" Striped Black Tee (c/o LuLu*s)
See how I'm styling my favorite new staples for the winter season while I am out and about with LuLu*s. For this post, one of my favorite basics: the striped tee.
I'm drawn to the simplicity and ease of a classic striped t-shirt. There are just so many ways to wear it! The other ones I own are of the typical white and navy variety, so it was nice to see an updated version in black. This black striped tee from Lulu*s (available here; on sale!) has a bow-like detail at the neckline and a flared silhouette (I tucked it into high-waisted shorts). It's a cute and comfy basic that's perfect for laidback outfits. I think it'd be fun to wear it with a blazer and shorts, too.
I wore it with high-waisted pleated shorts, a beret, over-the-knee socks, and ankle boots.
Outfit Details:
"Near and Noir" black and white striped tee (c/o LuLu*s)
Charcoal gray pleated high-waisted shorts (c/o Mia Melon)
Blue crossbody satchel (Forever 21)
Black over-the-knee socks (Forever 21)
Brown lace-up booties (c/o Pink and Pepper)
Gray beret (Forever 21)
Shop LuLu*s and enjoy
$5 off any order + Free Shipping
on orders over $50! Use promo code '
Take5
' at checkout.
Click to shop
!
Up next in the series (coming soon!): see how I styled a quilted black faux leather skirt!
bloglovin' . gfc . facebook . twitter . instagram