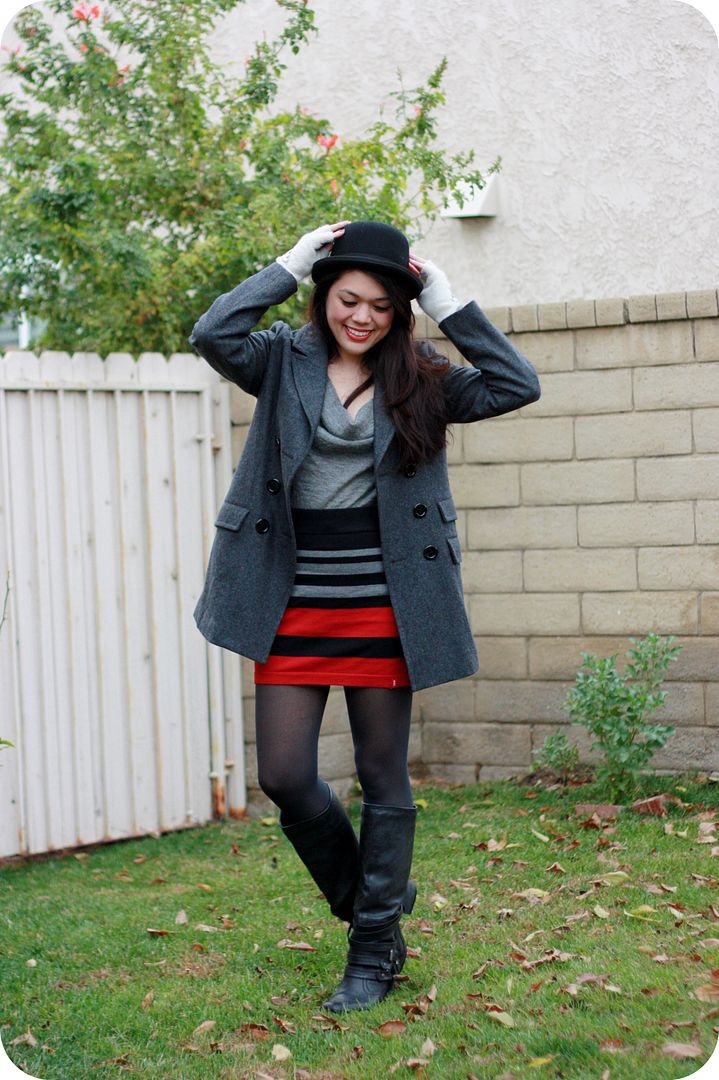 I meant to blog more this week, but ended up coming down with a cold (just when I was thinking about how I haven't been sick in a long time, too!). Getting a few packages in the mail did help me feel a little better though. ;)
I just received this striped knit bodycon skirt by Esprit from
Surfdome
and got to wear it today (easily the coldest it's been so far--we're going through a weird L.A. ~chill right now). Do check out the rest of the site when you can. They're UK based and have a few of my favorite British labels, as well as a great selection of basic knits.
More after the jump.
Outfit Details:
Gray alpaca knit cowl neck sweater (c/o Indigenous)
Red and gray striped bodycon skirt (Esprit; c/o Surfdome)
Charcoal boyfriend peacoat (Tulle)
Gray tights (Forever 21)
Black motorcycle knee-high buckle boots (c/o Pink and Pepper)
Cream fingerless gloves (Francesca's)
Black bowler hat (Forever 21)
I've been looking for more knit skirts and sweater dresses lately and this skirt is pretty much perfect. The mix of red, gray, and black stripes is modern and fun, and the fabric is thick enough so that you don't see any layers that are tucked underneath. I was able to tuck my sweater in and wear tights without suffering from any weird lines or bulges in the skirt (yay!). I wore it with different shades of gray and a little bit of black. You can find the skirt
right here
(here are a few
more
Esprit skirts as well).
I'm feeling a lot better today so at least I'll get to enjoy the rest of the weekend.
Hope you have a great weekend too!
bloglovin' . gfc . facebook . twitter . instagram