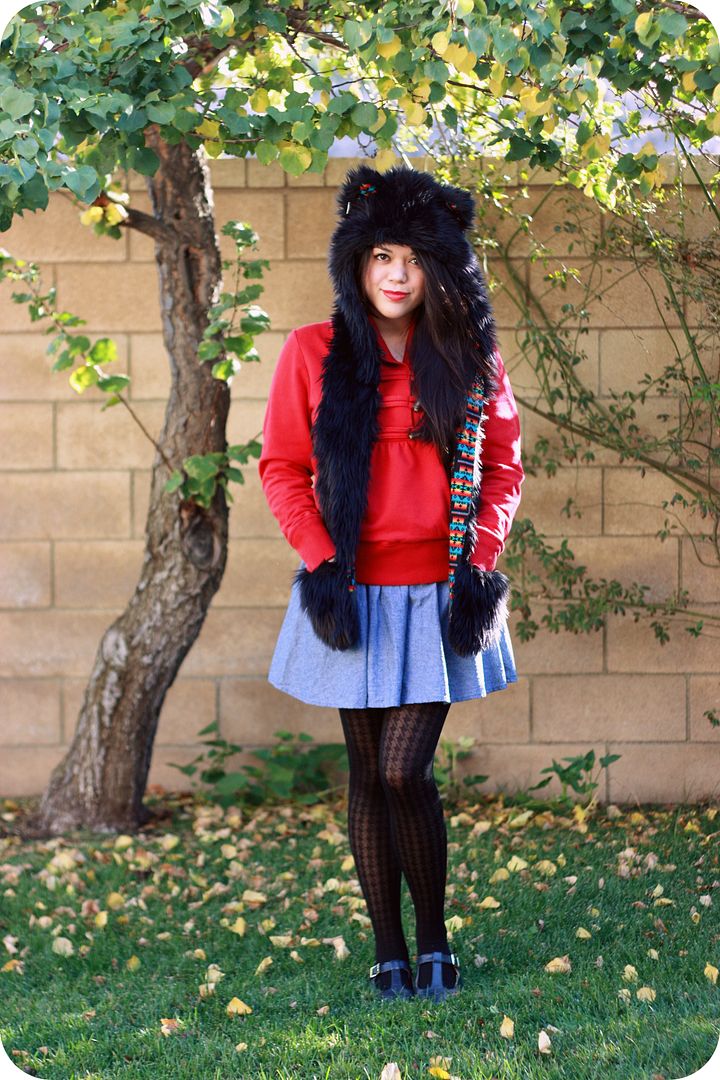 I had a rather uneventful Halloween this year, but I couldn't
not
dress up--
even if it was just for work (and I was the only one who tried).
My Halloween was pretty mellow, but I did get to eat lots of candy (yay!). My sister and I even drew faces on tiny pumpkins in lieu of carving because we didn't make it to the pumpkin patch this year.
I love Halloween.
Details after the jump.
Outfit Details:
Red toggle pullover sweater (Old Navy)
Chambray high-waisted pleated skirt (Love, Fire)
Black houndstooth tights (Francesca's)
Navy leather t-strap flats (Topshop)
Black wolf faux fur scarf hat (Spirit Hood / discontinued; latest version)
I suppose my costume is up for interpretation. I don't even know how to explain it, really.
Little Red Riding Hood + The Wolf.
Short explanation: I'm a wolf. The long explanation is that I'm Little Red Riding Hood and I got into a crazy fight with the wolf, and won. And now I'm wearing the wolf as a trophy.
Don't mess with Little Red.
Also, one of the scarf hands is twisted in the photos (oops--but you can see the cool lining at least).
How was your Halloween?
bloglovin' . gfc . facebook . twitter . instagram