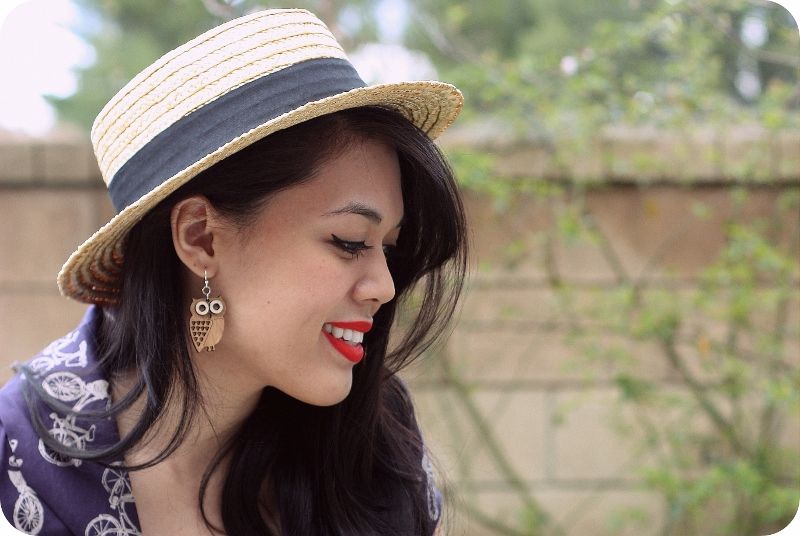 "Dietrich" sandals (Seychelles)
Outfit Details: Custom bicycle print sash waist dress in navy and white (c/o eShakti) | Natural straw boater hat (H&M) | Handmade owl earrings (gift from my best friend) | Thin gold bangle (Frosted Willow via Etsy) | Red t-strap "Dietrich" sandals with wooden heel (Seychelles)
I'd been anxiously awaiting the arrival of my custom
eShakti
dress for the past week and a half, and yesterday, it finally came in! I was impressed with the fast delivery, especially since I had chosen to get it customized.
When I saw the bicycle print dress, I knew it was meant to be. It has a whimsical print with little bicycles, a flattering silhouette that's fitted in the bust and waist, and a full skirt complete with pockets. I wasn't too crazy about the neckline in the photo, but went with it anyway (and I'm glad I did--so much cuter in person). Since I usually fall between sizes and can have issues with things fitting correctly, I was grateful for the option to have it made based on my own measurements. I even had it customized by adding cap sleeves and shortening the skirt. Honestly, I was nervous about getting a custom size and having it changed around a bit, because I was worried it wouldn't come out right or something--but it fit perfectly and was exactly how I wanted it!
Navy bicycle print dress by eShakti
Customizations made: Made to my measurements / Changed set-in cap sleeves to full cap sleeves / Shortened skirt from below knee-length to short mini length
When
eShakti
first contacted me, I checked out their website and was completely blown away. They have a huge selection of vintage-inspired tops, skirts, and dresses ranging from casual to work appropriate, and dressy to bridesmaid. And the best part?
Everything
comes in sizes 0-36 in women's! You can even get things made to your specific measurements, which is what I did. I can't even think of another store that offers that. Usually stores only offer a small range of sizes, or not everything is available in every size.
Another awesome feature is that most items come with custom options (for an additional fee). Don't want pockets? No problem. Add sleeves? Of course. Change the neckline? Sure. Make the skirt longer? Done. You can basically design your ideal clothing item, which is great if you prefer certain sleeves or necklines (hey, some are just more flattering on you, or maybe you want something conservative/appropriate for work). Of course, if you already like how it looks, you're totally welcome to purchase the style as is.
Great concept, professional company, and cute clothes made the way you want them. Be sure to take advantage of the exclusive discount code below.
A HUGE thanks to
eShakti
for sponsoring this dress.
Want something of your own? Use code
SWEETSNDHE
for 20% off (expires March 31st, 2013).
*Code has to be entered in the 'Promotional Code' box. No Minimum Order Value. The discount code is not case sensitive. The code can be used any number of times until the validity period. This code can be clubbed with any other gift coupon or gift card in the same order. This discount code is not applicable on our Overstock category. Not applicable on previous purchases.
bloglovin' . gfc . facebook . twitter . instagram