GEO Tri-Color World Violet Circle Lens (c/o Eye Candy's)
Eye Candy's
gave me the opportunity to pick out a couple of things to review, so I decided to fulfill my fantasy of having Elizabeth Taylor's mysteriously inimitable and much talked about (allegedy) violet eyes. I mean, why not? Okay, so purple eyes don't exactly occur in nature (except for Miss Taylor, but even that's
up for debate
), but I think the color is so pretty. I haven't tried any new circle lenses in a while and have been wanting to try new colors, so this was my chance.
I chose the
GEO Tri-Color World Violet
lenses specifically because they were relatively natural looking, didn't have that freaky-looking black limbal ring around the design, and weren't too large. At least I know what I'm looking for now.
GEO Tri-Color World Violet Circle Lens (c/o Eye Candy's)
Product
:
GEO Tri-Color World Violet Circle Lens
Vendor
: Eye Candy's, for $24.38 USD
Specs
: Origin: South Korea | Diameter: lens size is 14.2mm with 14mm design | Water content: 38% | Base curve: 8.6mm | Life span: 1 year disposal
Extras
: Eye Candy's included a free lens case
*The little caps on the free case they gave me were both mistakenly labeled "R". Not a big deal for me considering I got them without a prescription, but it might be inconvenient if your eyes require different powers and you need them labeled properly. I'm pretty sure it's uncommon to receive a defective lens case, but just a heads up.
Natural eye color
: Dark brown
Color (5/5):
The violet shade is surprisingly tasteful and not too costume-y. I was scared it was going to be too obvious, but the tri-color ensures that it blends in seamlessly with your natural eye color. It's a deep violet with brown in the center, and is lovely in both bright natural light and camera flash. It was difficult to tell that they were violet in darker natural light (they appeared dark blue/gray, but were still pretty). Enlargement was minimal and the change was slight, but unnoticeable--not a good lens if that's what you're looking for.
Comfort (5/5):
Very comfortable and I couldn't even feel them. They have a high water content (38%) and I was able to wear them for several hours without any problems.
Additional Photos: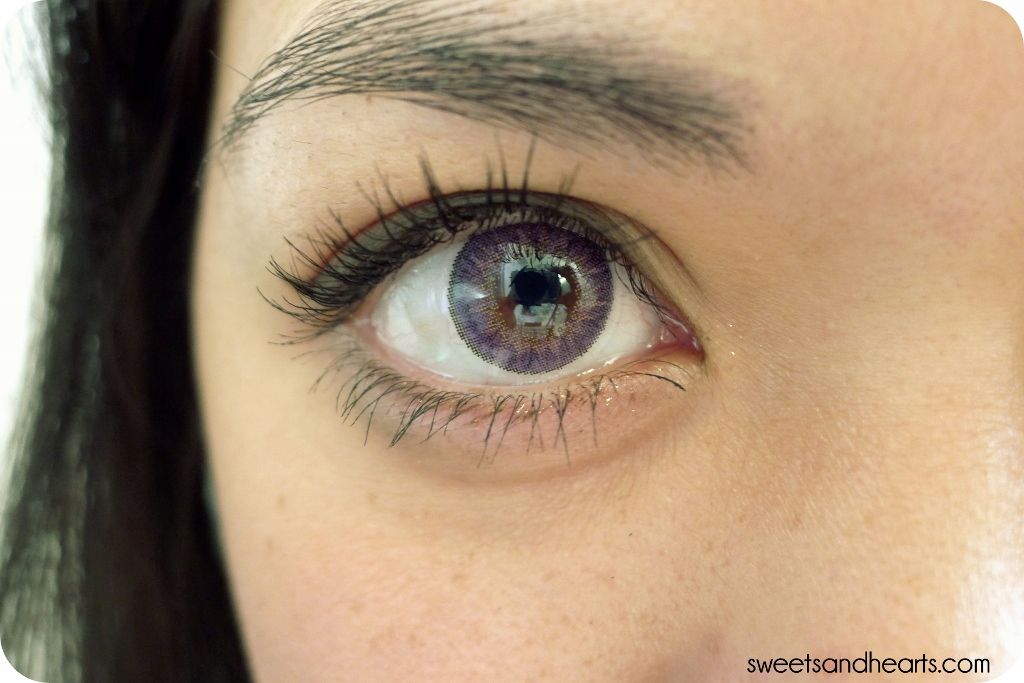 GEO Tri-Color World Violet Circle Lens, close-up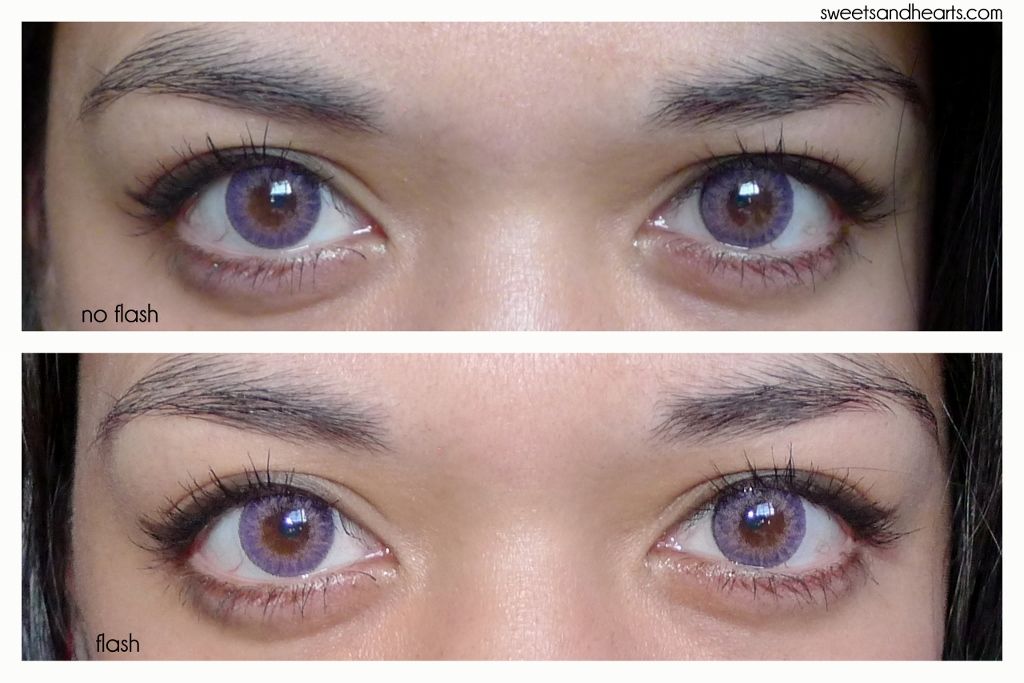 GEO Tri-Color World Violet Circle Lens
top -- with natural window light and without camera flash; bottom -- with camera flash
GEO Tri-Color World Violet Circle Lens (c/o Eye Candy's)
Purple eyes to match my purple walls.
What do you think? Would you try violet circle lenses?
By the way, if you'd like to purchase anything from
Eye Candy's
, use the code
sweetsnhearts
at checkout for a free gift! They have makeup, circle lenses, and more. I'll be reviewing a liquid black eyeliner next from them, so be sure to check back soon.
bloglovin' . gfc . facebook . twitter . instagram